Monde Perdu
By diane on Sunday 15 December 2013, 16:53 - ethnologie - Permalink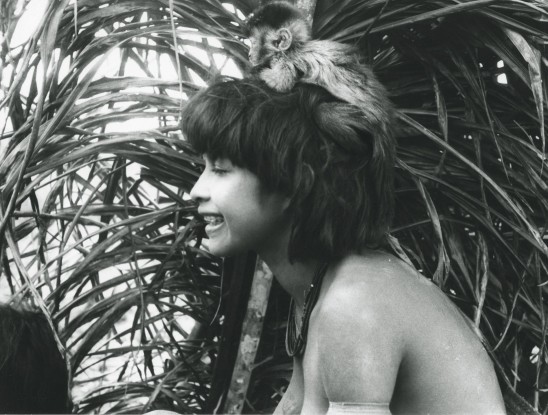 Great ethnologist like Levi-Strauss inspired me and made me discovered civilizations that nourish my work. But their wisdom and words inspire me the most. Here are excerpt from a re-transcription I've made of this interview :
http://www.ina.fr/video/CPB84051579
and then translated in English (please forgive me for the mistakes, it was not easy to translate)

Bernard Pivot interviews Claude Lévi-Strauss on different aspects of his work, on his influences too. I loved how he always answer with the most wise and chosen words (not sure my translation can show it in the true light, but I hope you will like it still)

Claude Lévi-Strauss
Our wisdom is only one wisdom from hundreds or thousands of others [...] Each one represents wisdom in his own way and we cannot try to understand our wisdom without putting it into perspective with all the other.

Bernard Pivot
So ethnology invites us to a sort of modesty, or humility?

Claude Lévi-Strauss
I think it was his function since it appeared in our literature if you look at its first appearances in Rabelais or Montaigne - because they are the first who have had an ethnographic curiosity – it was essentially in their thinking a way to criticise our beliefs, our customs or our institutions. But I don't use criticism in a term that could be derogatory. To criticize is trying to analyze, try to understand, trying to relate with other lifestyles and other ways of thinking.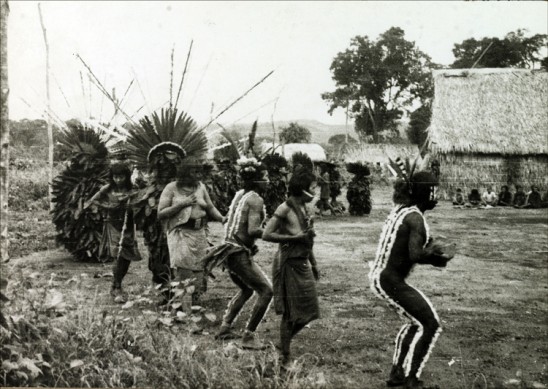 [About Tristes Tropiques]

Claude Lévi-Strauss
So , you know, this is a book that I wrote , I would almost say that I wrote it in exasperation and horror.
Bernard Pivot
Really?

Claude Lévi-Strauss
Yes, it is not at all what I wanted to do; I wanted to do science, if you will. And " Tristes Tropiques " was written in 4 months , and finally as a ... Yes, I do not think these editions are dated, I asked that dates be reinstated in the next edition, it was written exactly in 4 months. And as a kind of chore that I absolutely had to get rid because I do not feel like talking about myself, I do not feel like telling stories, small travel details. And at the same time, I am forced to admit, in retrospect, that there is in " Tristes Tropiques " some scientific truth that is perhaps greater than in our scientific works. Provided that what I did is to replace tthe observer in the object of his observation. Finally, this is a book written with these goals, it's called fish eye , I believe, finally, that not only show what is before but also what is behind the camera. And therefore, it is not an objective relation of my ethnological experiences, it is a relation of myself going through these ethnological experiences and therefore with a lot of things that I would never have allowed me to write in a book with a scientific ambition.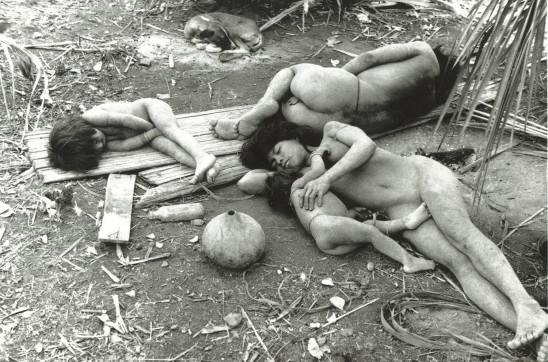 Bernard Pivot
You say, still in Tristes Tropiques : "When the ethnographer practices his profession on the scientific or academic level, there is a good chance we can find in his past objective factors which show him a little or no suitable at all for the society in which he was born "
That must be your case if you wrote it ?

Claude Lévi-Strauss
I was never really a man of the century in which chances have made me born. I have always been passionate about exotic curiosities or antique curiosities and in spirit I have always lived elsewhere or at other times than mine. I feel really (we were talking about Rousseau, Chateaubriand) I feel much more a man of the 18th, or perhaps even more of the 19th century. More than a man of this century, when in reality everything I love, everything that I am attach to ... I 'm not doing the trial of my century, it is an autobiographical confession indeed ... what I'm telling you about ... well everything I love, it's all being destroyed and disappearing. I would have liked to live in a time where , say the media were already fast enough so you do not have to spend your whole life , like Marco Polo, to cross the world ... But where at the same time travelling for three months on the sea brought you to a totally irreducible place to the one in which we lived. Now we fly and we arrive in eight hours or ten, or twelve hours ... and what do we find: it is an air terminal that is exactly the same as the one you just left.

Bernard Pivot
So for you, at this time, changing continents, going to the Indians of Brazil, it was a way to go back to another century ?

Claude Lévi-Strauss
It was changing world and changing century, certainly.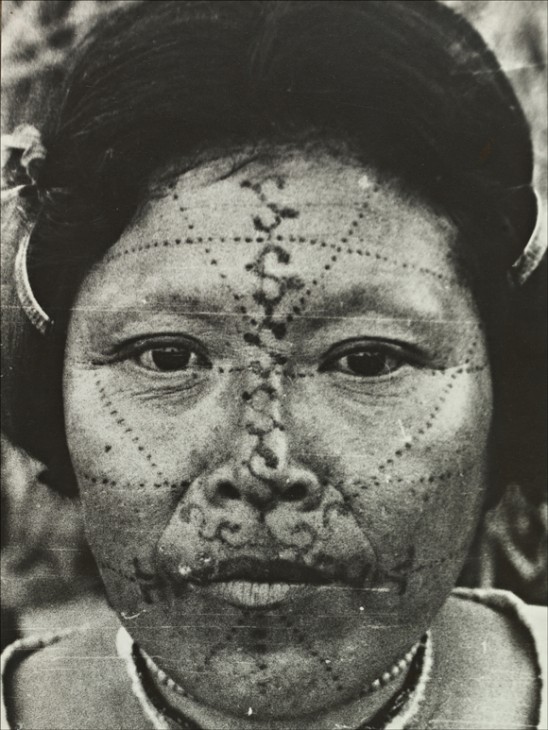 Bernard Pivot
You said: " I have a Neolithic intelligence" What does that mean a Neolithic intelligence?

Claude Lévi-Strauss
It means that I just don't feel able to cultivate the land and know, year after year, by amending fertilizers, grow crops, that I will draw more profitable harvests. I am much rather in the intellectual point of view, as these Indians I have known and loved, who clear a piece of forest and cultivated there for two or three years something and then the land is exhausted, and it's "ok" go elsewhere and set a new land under cultivation. It is the economy of the Neolithic period and I think my brain works a little that way. I do not say that as praise, it is more of a disability than anything else.

Bernard Pivot
So can you tell us like that: what is a myth?

Claude Lévi-Strauss
Well this is a story that seeks to account for the faith of the origin of things, beings, the world, the present and the future. And seeks at the same time, simultaneously to deal with problems that appear today in the light of our scientific thinking as quite heterogeneous [...] , to treat them as if it were a single problem. Myths try to put it all together and find a single answer to different problems.
[ ... ]
If you asked one of these Natives, in general, any Native of the Americas, because here there is a strange unanimity [...] He would have said that a myth is: a story that happened at a time when animals and people were not really distinct. And where they change from human form to animal form. What seems to be for me, I would say, an almost tragic truth. Because if there is something tragic in the human condition is, well, we are doing this coexistence alongside to other beings who live like us and with whom we cannot communicate. And the age of the myth is that time when it was possible.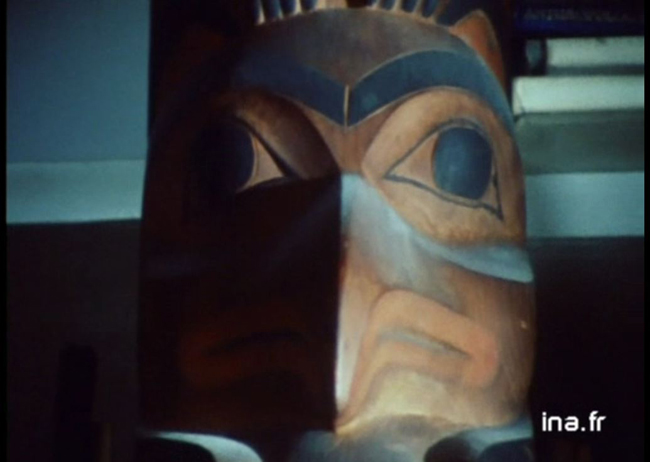 [...] Claude Levi -Strauss describes a replica of a Haida totem he has in his office:
So below, something very important: the raven, and the raven is the main deity of these people who have solved the problem of evil in a very different way from ours. We have an all-powerful and good God and so we fail to understand how can evil has entered the world. Their god, is a god who is a deceiver, by vocation and nature, and therefore he manufactures good and evil at the same time. Hence the complete lack of problem to ask about the existence of evil in the universe. They are lucky!

Bernard Pivot
There is a word we have not yet pronounce and which its absence would surprise, it is the word ecology. Does the ethnologists were not, before everyone, the first environmentalists ?

Claude Lévi-Strauss
I think it's true. And it's true because they are at the school of people who themselves are environmentalists. Who have succeeded at the cost of all kinds of practices and rules that we judge superstitious and that with a bit of disdain, but this rules kept them in balance with the natural environment. [...] All that hits the ethnologist and shows him how a wise way of living and behave is to think of themselves not as we have done since... I might almost say since the Old testament and the New, and since the Renaissance also, as we thought ourselves as the lords and masters of the creation, but as a part of this creation that we must respect because what we destroy will never be replaced. And we need to pass this world as we received it to our descendants. That's a great lesson, almost the greatest lesson that the anthropologist can take from his job.
...
The photos are from - Claude Levi-Strauss Monde Perdu exhibition (2012)
And a screen still from the interview: copy from a Haïda totem: the raven